Time to Read: 3 minutes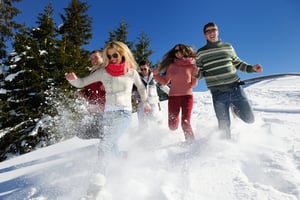 If you're planning to get away to the ski fields this season and you wear hearing aids, there are a few things you can do to keep your hearing and hearing aids in top condition.
Have you ever thought that skiing is a form of water sport? All of the things which can affect hearing aids during the warm and humid summer months, will also affect them on the slopes.
So let's see what you can do before you head off:
When you get to the ski fields:
Make sure you wear your hearing aids while on the slopes. It is important that you are able to hear instructors as well as important environmental sounds that will warn you of hazards such as impending avalanches.
Cover your hearing aids with a headband to protect your hearing aids from loss as well as annoying whistling sounds. Also, pick a helmet that your can comfortably wear with your hearing aids.
When you take your hearing aids our at the end of the day, be sure to wipe them over with a microfibre cloth and put them in the dehumidifier at the end of the day.