Time to Read: 3 minutes
Phonak has been gradually rolling out its phenomenal Venture chip set in all its hearing aid models and styles. The hearing aid range designed for severe to profound hearing loss, called the NAIDA is the latest to receive this update.
This is very exciting for users of Power Hearing aids as it is the first time that digital hearing aids with a wide dynamic input rage is made available to this group. For the first time, digital hearing aids can start sounding more like the analogue hearing aids many hearing aid users in this demographic loved so much.
Phonak hasn't simply slapped a new chip into the new Naida V range of hearing aids. They took their time to make use it delivers well beyond what was previously available in terms of power, reliability and audibility. They've even been able to make it smaller (25% thinner), while making it 60% more robust. The new chip set allows for 62% more speech understanding in noise and over a distance according to Phonak's claims. It even offers 6dB more output than the previous range.
The Naida V introduces a major upgrade of the frequency comp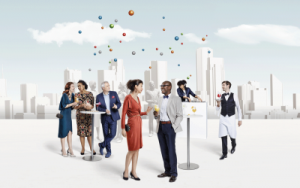 ression technology available in most modern Phonak hearing aids. SoundRecover2 allows for better audibility of high frequency sounds while affecting less of the low frequency range. This leads to better speech understanding.
The Naida V is available now in ranges from the lower end V30 through to the premium range V90.
It has a slew of wireless accessories available including new Roger FM accessories.
Contact us today to find out more and see if Naida V is a suitable solution for your severe to profound hearing loss.