Time to Read: 3 minutes
Signia's latest range of Cellion products have all been developed to make life easier for those with hearing loss.
People with hearing loss expect one thing from their hearing aids above all else: that they can once again clearly understand everyone and everything in their surroundings. It is even better, however, if the handling is also very simple. As with the new Cellion hearing aids from Signia: they not only have all of the latest technologies that enable easy hearing, but they are also the world's first hearing aids with lithium-ion power cells that can be inductively charged. This not only facilitates handling but also eliminates the hassle of having to change fiddly hearing aid batteries and protects the environment.
Cellion's rechargeable lithium-ion power cell uses convenient wireless inductive charging technology, meaning that the hearing aids need only to be placed in the supplied charging dock and the smart electronics take care of the rest. No specific positioning is necessary due to the contact-free charging technology, making it the simplest charging process ever. Once placed in the dock, the hearing aids then automatically switch off and the charging process begins. When the Cellion hearing aids are taken back out, they are dried, automatically switch on and are immediately ready for use.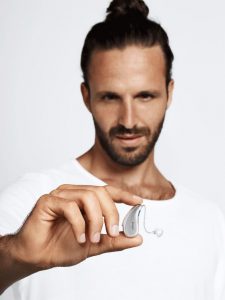 Once fully charged, the devices are ready for 24 hours of continuous use with full audio streaming, or for up to two days at a normal level of use with full time audio streaming. And for anyone who is unsure whether the batteries will last for the evening after an intensive day of listening, they can ensure more than seven hours of listening pleasure with the 30-minute power charge function. The power cells have a lifespan of several years, lasting the entire life of the hearing aid.
Thanks to the standard micro-USB interface of the charging dock, the hearing aids can be charged while on the go with virtually any USB-compatible power source, such as the power supply of a smartphone.
The lithium-ion power cell is completely integrated into the hearing aid, which means no battery door and no hassle with battery exchange. This makes Cellion very robust and resistant against dust and humidity.
Cellion is very small and discreet, while offering all the hearing benefits of Signia's latest technology platform. Clear hearing and effortless speech understanding all day long, in all everyday listening situations and in the evening when listening to music or watching TV.
Cellion is available at two pricing levels:
The Advanced Cellion 5Px
The Premium Cellion 7Px