With many of our clients preferring to remain at home because of COVID-19 and the general cold and flu season, we want to stay in touch with you in a thoughtful and imaginative way.
We've created a 24 page activity booklet with crossword puzzles, sudoku, word search, trivia, jokes and colouring-in.
While remaining home when necessary is an important part of managing the spread of disease, it can also result in cabin fever!
Boredom and loneliness is one of the hidden negative effects of this current health emergency.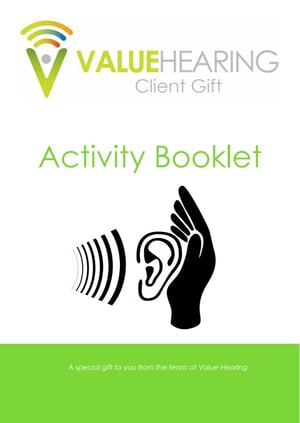 If you have untreated hearing loss, the isolation and quarantine may hit you even harder, especially when it is difficult to to enjoy even the simple pleasure of watching television.
Or your spouse may tell you that you have the TV turned up too high.
So in the interests of better hearing, well-being (and domestic harmony), we encourage you to make an online appointment for a Virtual Consultation and Private Hearing Aid Fitting in Value Hearing's safe, hygienic environment.
To our current clients, we hope you are bearing up well and if you're a little tired of bingeing on the likes of Netflix or TV movie marathons, you might get a few hours' enjoyment from our activity booklet.
I recommend you print out this booklet (select 'print both sides' to save paper), then find a nice warm place in the sun with a nice cup of tea and relax in the fresh air - that's the very best medicine for times like this.
Feel free to share a link to this booklet for your friends and family to enjoy.
Christo Fourie B.Communication Pathology (RSA, Pretoria). MAudSA (CCP) (Audiologist)
P.S. These are challenging times, but we do want to let you know that you are not alone. We have compiled a short list of links to use if you need greater support:
Centrelink Payment and Service Finder